About
Urban Building Solutions by Hank McCullough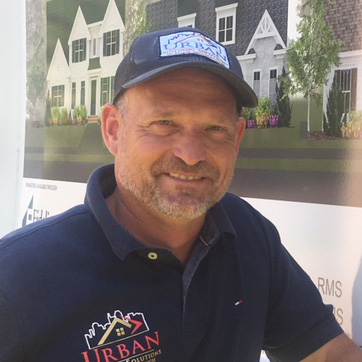 Meet the owner Hank McCullough
Hello, my name is Hank McCullough, founder of Urban Building Solutions in Raleigh, NC. I was born, raised and lived in Aiken SC until I went to college at Winthrop University in Rock Hill, SC and received a degree in Business Administration in 1992. I'm very close with my family who still live in Aiken and have one son who lives with me part time in Raleigh, who hopefully will join me in the company one day.
I decided I wanted to live in a larger area with more opportunity for a career so I ended up following a sales job opportunity to Durham NC in 1996. So here I am 23 years later loving the area, the people, energy, growth and very proud to call it my home.
I started off in NC working in a mobile home manufacturing plant as a sales rep to dealers. Eventually I went to work with a local brick manufacturer selling to custom builders. Then when the market crashed in 2007 I decided to get my contractor's license to do something I was excited about and a passion for.
After building in several areas of the triangle and living in Southern Wake County I made the decision not only build downtown but to also move into the Five Points area so I could live in the market that I wanted to build in.
I specialize in tear down and new construction in existing inside the beltline neighborhoods, renovations and additions covering price points from $350-$950's. I have a custom approach to each project that's designed to fit into the present architecture of the neighborhood. Either me or my project manager are at the job site every single day managing every phase of the construction project.
Meet the VP of Construction Woody Browning
Hello, my name is Woody, VP of Construction. I come from a building family. Both my grandfather and father built both commercial and residential projects. I started in the housing industry in 1996 and have continued in various areas of the industry since. Prior to joining Urban Building Solutions I owned and managed a home maintenance company that specialized in all types of rental property maintenance.
My attention to detail and ability to manage all aspects of completing a project makes Urban Building Solutions unique. From the beginning of a project to the final walkthrough, I work with our suppliers and, subcontractors to construct a property that anyone would be proud of.
I'm a proud husband and father to two children. In my down time I enjoy some quality beach time with my family and grilling with friends.